2021 Incidents
January
15
February
17
March
25
April
27
May
23
June
22
July
21
August
40
September
19
October
November
December
Total
209
2020 Incidents
January
20
February
14
March
21
April
21
May
22
June
24
July
24
August
85
September
28
October
19
November
19
December
23
Total
320
Past Annual Incident Totals
2020
320
2019
290
2018
344
2017
275
2016
321
2015
286
2014
246
Web Counters
Website Visitors
Since
January 13, 2015

Visitors Today
Sep 23, 2021

Copyright © 2021 Vigilance Hose Company


Duplication of text, photos, or any other content on this website is prohibited without permission of NFD. If you have questions, please contact us at info@vigilancehose.com
NAZARETH, PA WEATHER
Welcome to the Official Website for the Vigilance Hose Company No. 1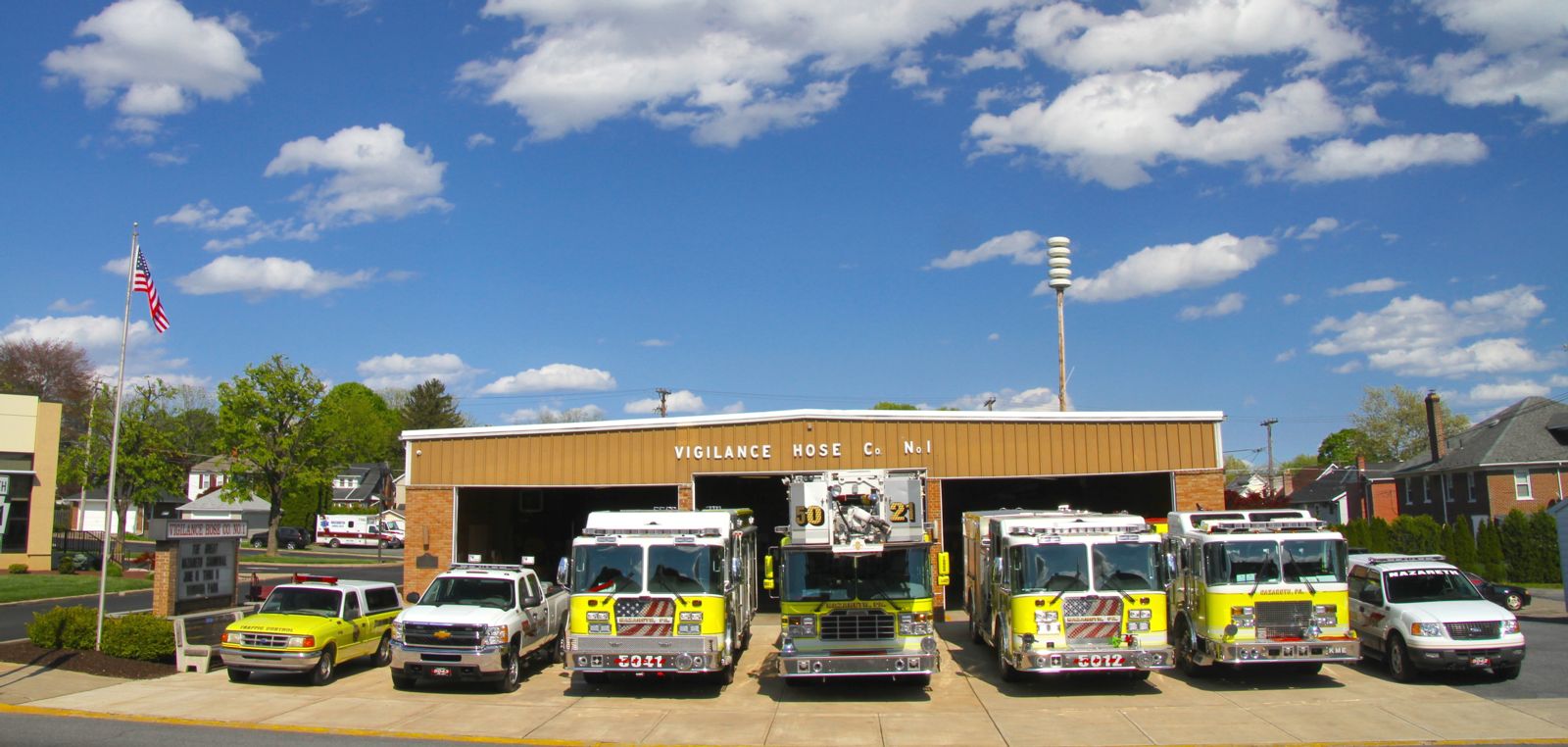 EMERGENCY 911
Fire Station: 610-759-2542
Social Club: 610-759-7978
2021 Annual Nazareth Halloween Parade will be held Saturday, October 16th starting at 1pm

2nd Assistant Chief Mark Morella, September 01

The 2021 Annual Nazareth Halloween Parade will be held Saturday, October 16th starting at 1pm.

Parade is rain or shine. There is No rain date.

The Parade is sponsored by the Vigilance Hose Company No. 1. Hot dogs and soda will be available for all parade participants following the parade at the Nazareth Senior High School.

Cash prizes will be awarded to the category winners.

Registration dates ... (Full Story & Photos)


Volunteer With Us

2nd Assistant Chief Mark Morella, August 25

The Vigilance Hose Company No. 1, like most volunteer organizations can always use more help. To join, simply stop in the fire station located at 49 S. Broad St. (Nazareth Borough) on any Monday Night during drill and pick up an application. Or call 610-759-2542 and leave a message with your contact information, and we will call you back.

We have many membership opportunities including:

Active ... (Full Story)




Kitchen Fire Displaces Family on New Street

Nazareth Fire Department, August 17

Recently, the members of the Vigilance Hose Fire Company along with Upper Nazareth Volunteer Fire Department were dispatched to a report of a dwelling fire on N. New Street. As fire units were mustering for response, officers from the Nazareth Police Department were first on the scene and were able to quickly knock down the fire with portable fire extinguishers. Engine 5012 was the first apparatus ... (Full Story & Photos)



Crews working at a garage fire on Mauch Chunk St.

Garage Fire on Mauch Chunk St

Nazareth Fire Deptartment, July 28

Nazareth Vigilance Hose Fire Co. #1 was dispatched along with Upper Nazareth Volunteer Fire Co. for a garage fire on Mauch Chunk St. today. Chief Jerry Johnson took command and reported a small fire only smoking. Truck 5021 and Engine 5413 responded. Fire crews removed siding and cut wood panels to ensure the fire was completely extinguished. There were no injuries and the fire was contained to ... (Full Story & Photos)


Single Vehicle Crash with Minor Injuries

Nazareth Fire Department, July 28

On Tuesday, 7/27/21 the Vigilance Hose Fire Co #1 was dispatched with EMS for a motor vehicle accident with injuries. Lieutenant Wade VanBuskirk took command and Rescue 5041 responded with a crew of 6 personnel. The driver was able to get out of the car on their own but was taken to the hospital with minor injuries. Fire crews secured the car of hazards and helped with cleanup. Fire police conducted ... (Full Story & Photos)



A single vehicle crash sent the driver to the hospital with minor injuries.

Your feedback is important to us! Please sign our guestbook.