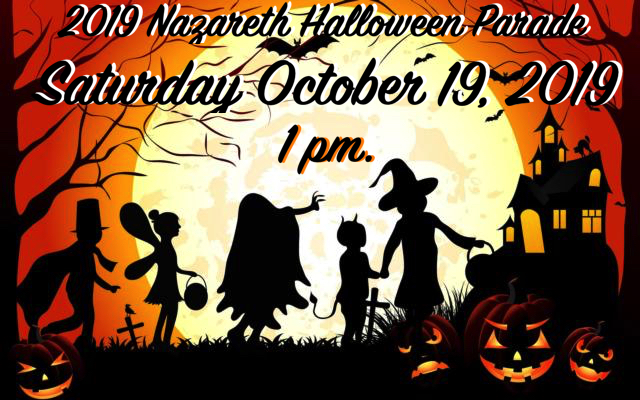 2019 Halloween parade
October 19, 2019, 1pm.
Parade Registration Dates & Times:
The 2019 Annual Nazareth Halloween Parade will be held Saturday, October 19th starting at 1pm. Parade is rain or shine. There is No rain date.
The Parade is sponsored by the Vigilance Hose Company No. 1 and the Nazareth Area Kiwanis Club. Hot dogs and soda will be available for all parade participants following the parade at the Nazareth Senior High School.
The parade will start at Belvidere and Fairview Streets. It will then travel West to Main Street, North on Main Street to the Circle and then East on East Center Street to the Senior High School.
Cash prizes will be awarded to the category winners.
Registration dates for the parade are as follows:
Saturday, October 5th, 10-12noon
Monday, October 7th, 7-9pm
Wednesday, Oct 9th ,7-9pm
Saturday, October 12th, 10-12noon
Monday, October 14th, 7-9pm.
Registration will be held at the borough's fire house, Located at 49 South Broad Street
Any organizations or individuals wishing to participate in this years parade, please contact parade chairman
Carl Strye, Jr. @ 610-759-7743